The Great Poor Farm Experiment VII
August 5, 6, 7, 2016
exhibitions on view through June 2017
EXHIBITIONS:
The January February March: Kate Newby and Jennifer Kabat
Jonn Herschend: Lisa & Mark work it out
Poor & Needy organized by Yvette Brackman and Lise Baggesen
ANNUAL EVENTS AND ON-GOING PROJECTS:
Levi Budd: A Ten Year Project
John Riepenhoff and Richard Galling's Yet Another Lazy River Show Me Your Rafts Event
Aaron Van Dyke's Summer School
Molly Zuckerman-Hartung's Packing My Library 2014

The January February March:  Jennifer Kabat and Kate Newby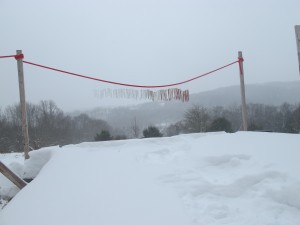 The January February March is a rolling project of site-responsive installations and writing developed over a two-year period. A collaboration between Kate Newby and Jennifer Kabat, the series sets out to explore small details and unseen histories, the easy-to-overlook and ignore. Here, they develop elements to realize over the next twelve months through research into the landscape of the Poor Farm. Newby will use earth from the surrounding area to examine natural formations and how firing clay reverses the geological process, leaving work in place over time. Kabat will explore the Poor Farm's past and the history of debt, poverty and relief in rural America.
Jonn Herschend: Lisa & Mark work it out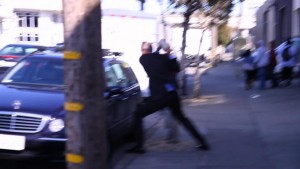 Eight films by Jonn Herschend working out the same issue, over and over again
Over the past 11 years, Jonn Herschend has made 14 films.  Out of those 14 films, there are 8 that have an ongoing love triangle involving the characters of Lisa, Mark and a narrator/director.  These films range from 90s style music videos, to Infomercials and PowerPoint Presentations.  For this iteration of the Poor Farm Experiment, Jonn Herschend will be presenting for the first time, a screening of all 8 films in the Mark & Lisa cycle.
Poor and Needy: Part I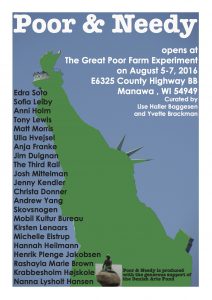 Poor & Needy is an exhibition, symposium, and publication organized by Yvette Brackman and Lise Haller Baggesen. It includes work by:
Rashayla Marie Brown
Kirsten Dufour / Mobil Kultur Bureau
Jim Duignan / Stockyard Institute
Michelle Eistrup
Anja Franke
Nanna Lysholt Hansen
Hannah Heilmann
Anni Holm
Ulla Hvejsel
Henrik Plenge Jakobsen
Jenny Kendler
Kurt Finsten/Krabbesholm Højskole
Kirsten Leenaars
Sofia Leiby
Tony Lewis
Josh Mittelman
Matt Morris
Skovsnogen
Edra Soto
The Third Rail
Andrew Yang & Christa Donner / Cultural ReProducers
Inspired by Emma Lazarus' poem "The New Colossus," engraved on the base of the Statue of Liberty in New York, Poor & Needy will explore various economies of creative compassion. Housed in a former debtors farm, it engages its site to reflect on ideas related to cooperation, migration and debt.
The exhibition occupies two floors of the Poor Farm with an upstairs "biblioteque" and basement "discoteque," to underscore how these issues must be actuated both in the archive and in the club, to capture our hearts as well our minds.
Migration implies collaboration, and the need to recognize our interconnectedness, to address systems of oppression, domination or discrimination. Debt and economic liberalization turns the previously mentioned social and political movement(s) into profitable economical entities within debt relations. As artists we rely on each other to forge bonds and collaborations, but what does it mean to be in debt; to whom are we indebted, and who will hold us accountable – society, community, the canon, a legally binding contract, or merely our own moral code?
Poor & Needy brings together a disparate group of artists from Scandinavia and from the American Midwest, using landscape, locality and (shared) history to examine artistic ecologies in various forms, from artist-run spaces, collaborations, and publications, to the cooperative continuum between people in nature.
The exhibition in Manawa will be followed up by a series of exhibitions and events to take place in various artist-run venues in Denmark in the summer of 2017.
The third, and final part of the project will consist of a publication, co-published by Poor Farm Press and Krabbeshiolm Højskole, including documentation of the exhibition(process) as well as reflective texts by Lise Haller Baggesen, Yvette Brackman, invited scholars, and exhibiting artists.
This show was generously supported by The Danish Arts Fund.
ANNUAL EVENTS AND ON-GOING PROJECTS:
--Levi Budd: A Ten Year Project
--Aaron Van Dyke's Summer School
--Yet Another Lazy River Show Me Your Rafts Event
Bring something to float on and stuff to drink. This year's collectable custom koozies will be provided to participants while supplies last. Awards will be decided by a panel of judges and given out for rafts that are the most retrospective, romantic, and responsible. Launch will be around 1pm on Saturday. Meet at the Poor Farm but if you can get a ride to the boat launch at HW110/22 and Cemetery Rd just south of Manawa, WI that'll make things flow better.
Richard Galling, John Riepenhoff and the lazy river rafters.
--Molly Zuckerman-Hartung's Packing My Library 2014
In 2016 Zuckerman-Hartung continues the multi-year state of being itinerant begun in 2014. Her personal library's ongoing existence at the Poor Farm is one aspect of a long term experiment.