August 1, 2, 3, 2014
Exhibitions on view through June 2015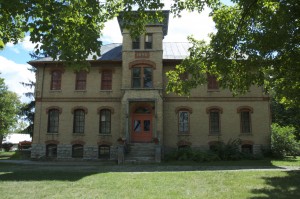 Henrik Plenge Jakobsen
Jacob Lillemose 
Assaf Evron
Amikam Toren
Nelly Agassi
Molly Zuckerman-Hartung 
Steve Wetzel
John Riepenhoff
Richard Galling
Lifetime Achievement
Nicholas Frank
Maddie Reyna and Levi Budd
Cargo Space and Bad at Sports 
The Drawing Center's Open Sessions at The Poor Farm
Aaron Van Dyke and Summer School
Henrik Plenge Jakobsen new-commissioned exhibition at the Poor Farm Experiment is named "Divorce" which will be an installation that spans over to rooms with sculptures and videos that draws from the aesthetics of European and African folk traditions that evokes scenery between animistic rituals and ludicrous gestures, and a sculptural and performative exercise into form and anti-form.
The Danish artist Henrik Plenge Jakobsen examines the effects of political, economic and social structures on our lives. For him, art and reality are not separate fields that can be temporarily merged with each other. Art rather represents one of these realities, from which our own reality is comprised.  Henrik Plenge Jakobsen was born 1967 in Copenhagen where he also lives. Plenge Jakobsen had solo presentations at Portikus, Frankfurt, Kunstverein Düsseldorf,  The National Gallery in Copenhagen and The Suburban in Oak Park.
Open Sessions at The Drawing Center is a two-year platform for dialogue, open to artists working in a variety of disciplines and offering exhibition opportunities at The Drawing Center and other venues. Over the next two years a rotating selection of work by artists participating in Open Session will be presented at The Poor Farm.
Assaf Evron is presenting a photographic installation based on infrared kinect sensor light. Evron's purple images offer a seductive visual experience and a conceptual engagement in the history of painting, metaphors of vision and the optical apparatus.
Summer School is an informal gathering of students, faculty and artists exploring experimental forms of dialog and education. It resides within the opening weekend of the Great Poor Farm Experiment each year.
Nelly Agassi will adapt her I'm the One performance, originally developed for the 2010 No Soul For Sale exhibition at Tate Modern, for the Poor Farm. Agassi gives away t-shirts printed with the phrase I'm the One in white-on-white, rendering each person who takes one simultaneously a self-aware individual and a member of a subtle collective identity.
Steve Wetzel will screen a single-channel video shot in Cuyuna, MN, about a wood tick festival where hundreds of wood ticks are collected and raced as part of a dynamic, annual convivial social performance in the heart of the nation's once-thriving iron ore industry. A related installation will comment on the Poor Farm's existence as a sometimes-lonely, sometimes socially burgeoning locale, and the passage of real time in representational space.
Levi Budd and Maddie Reyna will collaborate in a site specific, permanent intervention wherein a text will be carved into a tree on the site of The Poor Farm.  The instrument used will be left implanted in the tree, causing permanent modification in its growth.
On Saturday, August 2nd, 2014 The Great Poor Farm Experiment presents a special preview of Lise Haller Baggesen's book Mothernism, due for release in October of 2014. For this Saturday afternoon, Baggesen will present sections of her forthcoming book, while discussing the project from inception to print. Advance copies of this lush, full-color edition designed by Sonnenzimmer will be available.
Contact:
Michelle Grabner: bkmgcar@comcast.net
Brad Killam: bkillam2000@gmail.com
Poor Farm
E6325 County Highway BB
Manawa, WI 54949
Ph: 708-305-2657