The Great Poor Farm Experiment IV
GRETCHEN BENDER: TRACKING THE THRILL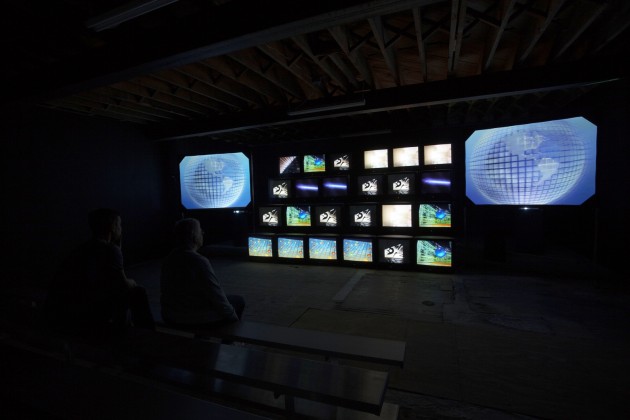 TRACKING THE THRILL: A Gretchen Bender Survey
Organized by Philip Vanderhyden and the Poor Farm
Tracking The Thrill is a focused selection of Gretchen Bender's (1951-2004) video works including the re-staging of the video performance Total Recall, a major performance that Bender originally exhibited in 1984 and 1987 respectively. Total Recall and Wild Dead will be situated within a reexamination of Bender's concurrent work for broadcast television. The Poor Farm's 8000 square feet of exhibition space are given over to this historical exhibition. New York City based sound artist Stuart Argabright will create a live soundtrack for the opening weekend of Tracking the Thrill.
A catalog published by Poor Farm Press with essays and interviews by Stuart Argabright, Amber Denker, Michelle Grabner, Tim Griffin, Carla Hanzal, Robert Longo, Peter Nagy, Lane Relyea, David Robbins, Rirkrit Tiravanija, and Philip Vanderhyden will accompany the exhibition.
Exhibition traveled to the Kitchen, NYC August 28, 2013 - September 28, 2013

Gretchen Bender, Total Recall (1987)
Poor Farm 2012-2013
Gretchen Bender, America's Most Wanted (1988)
Poor Farm 2012-2013
Gretchen Bender, Wild Dead (1984)
Poor Farm 2012-2013
Other 2012 POOR FARM PROJECTS BY:
Paul Druecke
Hilary Wilder
Oli Watt and Peter Power
Jacob Kassay
Amy Granat
Keil Borrman
John Riepenhoff and Richard Galling
Lars Walter
Summer School
Ali Bailey
Andrew J. Greene
Bradley Kronz
Daniel Sullivan
Darja Bajagic
David Flaugher
Sarah Sieradzki
Jared Madere
Kristen Van Deventer
Whitney Claflin
Wilton Stewart
Winston McCarthy
Khine Hline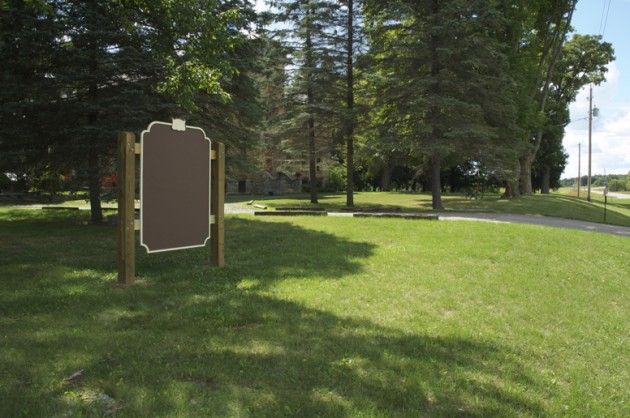 Paul Druecke (Milwaukee)
Paul Druecke's sculpture, Poor Farm, will be unveiled during the Poor Farm's Summer 2012. The work, three years in the making, combines convention and artifice to commemorate the farm's past, present, and future. Poor Farm will be permanently installed on the grounds.
+++++++++++++++++++++++++++++++++++++++++++++++++++++++++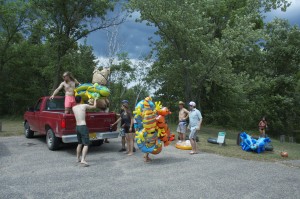 PROJECT DESCRIPTIONS:
Richard Galling (Milwaukee) + John Riepenhoff (Milwaukee)
Lazy River, Show Me Your Rafts Again
The clear water, gentle rapids, and breathtaking scenery of the Little Wolf River make DIY tubing a fun and relaxing recreational activity for all artists. Make or alter your own raft or floating device and join us for a group float down the Little Wolf River. A committee will give out awards for: most lyrical, most literal, and laziest rafts.
Rafts will be launched on Saturday at 2pm. Stop for a swim at one of the smooth sandy spots or stay in your tube and relax. Allow the river to take you on a leisurely trip back to the Poor Farm. Participating artists can choose to build their rafts beforehand or bring supplies to make their floating devices on site.
John Riepenhoff is an artist, curator, gallery director, art fair co-organizer and inventor of artistic platforms for the expression of others. Riepenhoff opened the Green Gallery while still an undergraduate at the University of Wisconsin-Milwaukee. His work and projects have been presented at the Tate Modern and Frieze Art Fair (London); Gavin Brown's Enterprise, the Swiss Institute, and NADA Art Fair (New York); Angstrom Gallery, Ooga Booga, and Pepin Moore (Los Angeles); Tokyo 101 Art Fair (Tokyo); Kölnischer Kunstverein (Cologne); Karma International (Zurich); Fredric Snitzer Gallery (Miami); The Suburban (Oak Park, Illinois); Sullivan Galleries, School of the Art Institute of Chicago and Western Exhibitions (Chicago); Madison Museum of Contemporary Art; Milwaukee Art Museum,  Inova, Lynden Sculpture Garden (Milwaukee) among other places. He is a member of the curatorial group Milwaukee International/Dark Fair and is a board member in the public art collective Friends of Blue Dress Park.
Richard Galling is a painter, music producer, and DJ.  Galling received his BFA at Art Center College of Design and MFA at Yale University.  He has recently exhibited at Autonomie, D-Block, and Commonspace (Los Angeles); The Green Gallery East (Milwaukee); LVL3, Ebersmoore (Chicago); Bentley Projects (Phoenix), among other places.  He has been awarded the 2011 Mary L. Nohl Fellowship as an emerging artist and the 2007 Ely Harwood Schless Memorial Prize.  Galling additionally teaches in the Fine Art Department at the Milwaukee Institute of Art and Design.
http://www.johnriepenhoff.com/
http://www.thegreengallery.biz/
http://richardgalling.com/
++++++++++++++++++++++++++++++++++++++++++++++++++++++++++++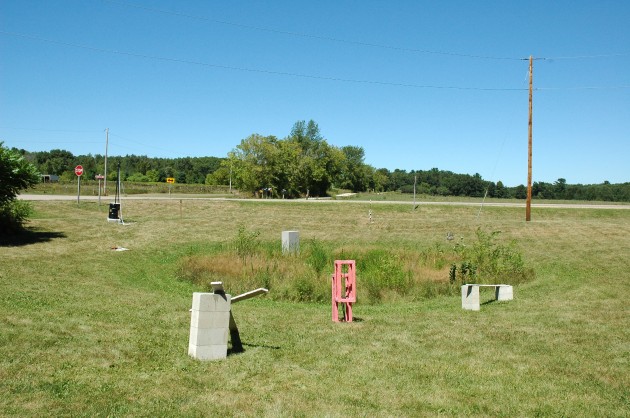 SCULPTURE GARDEN
Arranged by Andrew J. Greene (New York)
SCULPTURE GARDEN is an outdoor sculpture show. SCULPTURE GARDEN will be documented via surveillance camera and a continuous live stream of this video will be available at all times during the duration of the exhibition.
SCULPTURE GARDEN includes works by Ali Bailey, Andrew J. Greene, Bradley Kronz, Daniel Sullivan, Darja Bajagic, David Flaugher, Jared Madere,  Kristen VanDeventer, Sarah Sieradzki, Whitney Claflin, Wilton Stewart and Winston McCarthy.
++++++++++++++++++++++++++++++++++++++++++++++++++++++++++++++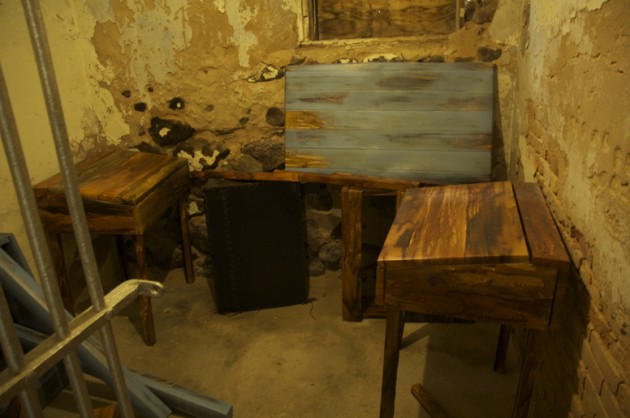 Hilary Wilder (Richmond, VA)
Greatest American Hero
Hilary's project will consist of paper and plastic sculptures based on the design of Thoreau's writing desk at Walden Pond.  Gathered together in the Poor Farm basement, the objects will appear to be held in storage or waiting "back-stage" for future use.
Hilary Wilder's paintings, installations and sculptures often allude to familiar visual languages (for example, 19th-century landscape painting, Irish cabinetry design, medieval gold sculpture, and Scandinavian furniture).  As these forms are manipulated and placed in unexpected contexts, they underscore how what is suggested by an object in regard to history, class, or importance is perhaps more significant than its actual subject or use.  Hilary lives in Richmond, Virginia, where she is an Assistant Professor at Virginia Commonwealth University.
+++++++++++++++++++++++++++++++++++++++++++++++++++++++++++++++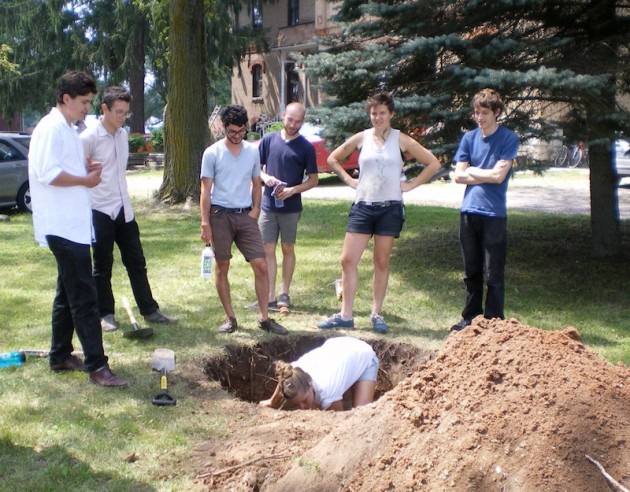 Keil Borrman (New York)
The Following Recipe Will Be Adapted to Accommodate Participating Numbers
Taken from: http://kimchimari.com/2011/11/23/kimchi-jjigae/
Servings: 2-3         Prep Time:  10 min   Cooking Time: 30      Diffculty: easy
Ingredients for Pork Kimchi Jjigae (돼지고기 김치찌게 Dwejikogi Kimchi Jjigae)
3 -4 C (7 to 8 oz) chopped sour kimchi (신김치 shin kimchi) or aged kimchi (묵은지 Moogeunji)
8 oz pork belly or shoulder (should have some fat)
2 cloves garlic (chopped or crushed)
1/4 tsp garlic powder
1 packet of anchovy stock or 5 large anchovies for stock
1 T vegetable oil
3 C water
OPTIONAL:
1 T mirin (rice wine)
1/4 tsp red chili powder
1/2 onion, sliced
1/4 tsp gook kanjang
1 tsp sesame oil
+++++++++++++++++++++++++++++++++++++++++++++++++++++++++++++++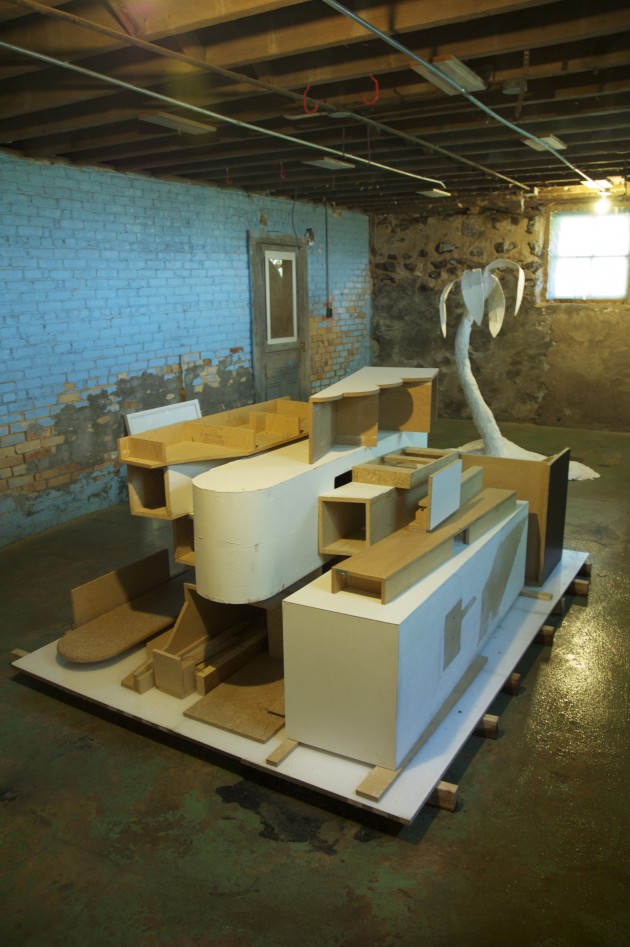 Peter Power (Chicago) + Oli Watt (Chicago)
In the Poor Farm basement gallery; sculptures, drawings and prints by Peter Power and Oli Watt explore themes of archetypal perfection and the navigation of real or imagined far-away places.
++++++++++++++++++++++++++++++++++++++++++++++++++++++++++++++++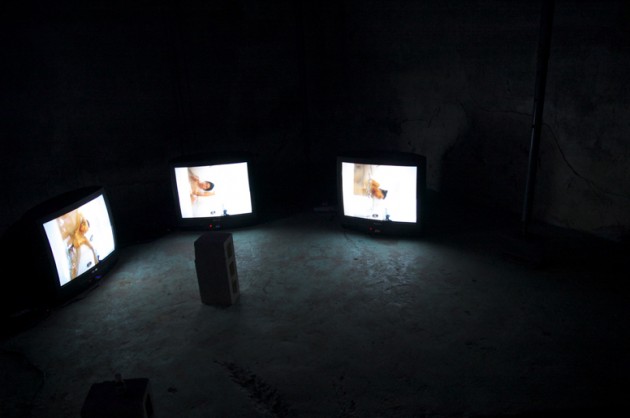 Khine Hline (Milwaukee)
While in Berlin, Douglas Gordon offered Khine a bath in his bathtub. In a single take, Khine took her quiet moment and put it back to work.  The resulting video work is titled "Yes, I am here." Khine Hline is a Burmese born, New York - based performance artist. Using her body as an instrument and central subject matter, she engages in a spectrum of performative disciplines that include dance, music, acting, painting, fabrication, photography and modeling.
+++++++++++++++++++++++++++++++++++++++++++++++++++++++++++++++++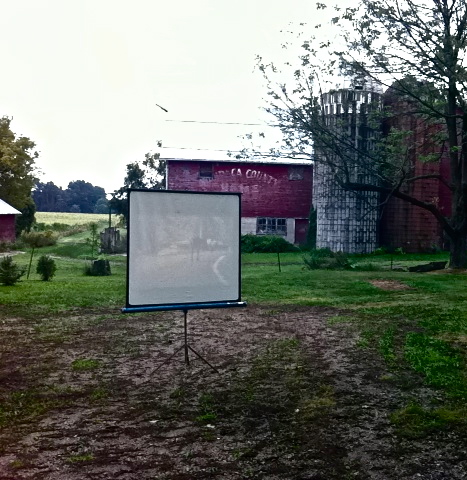 Amy Granat (New York/ St. Louis)
An outdoor screening of "devil's elbow" (2012) 11 minutes 16mm b&w
++++++++++++++++++++++++++++++++++++++++++++++++++++++
The Poor Farm will present Guillaume Leblon at NADA COLOGNE
April 18-22, 2012
Hall 11, Cologne-Deutz Exhibition Centre
Koelnmesse GmbH
Messeplatz 1
Cologne 50679
Germany