GREAT POOR FARM EXPERIMENT III
SUMMER 2011 / August 5, 6, 7, 2011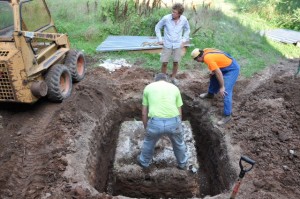 Guillaume Leblon (Paris,France), Chris Sperandio (Houston, TX) + Simon Grennan (UK), David Dunlap (Iowa City) + Bruce Tapola (St. Paul, MN), Yvette Brackman (Copenhagen, Denmark), Simon Ingram (Auckland, New Zealand), Duncan MacKenzie (Chicago, IL) + Christian Kuras (London, UK), Lily Cox-Richard (Ann Arbor, MI), Keil Borrman (New York), Diego Leclery (Chicago), Richard Galling + John Riepenhoff (Milwaukee), Tyson Reeder + Scott Reeder (Chicago), Stephen Perkins (Green Bay), Aliza Nisenbaum (New York), Deirdre O'Dwyer (New York), + Kelly Williams (Nashville) Peter Barrickman, Celeste Verhelst, Perre Kerch, Xav Leplae + friends (Milwaukee), Alexander Herzog (Chicago), Rose DiSalvo (Chicago), Alex Jovanovich (New York) + Nicole Perez (Chicago), Aaron Van Dyke (Minneapolis) + Summer School.
PROJECTS:
Guillaume Leblon (Paris, France)
Guillaume's project will engage the vast first floor of the Poor Farm.
His constructions engage an elastic reality by juxtaposing different
dimensional scales in the same space while allowing narrative links to
connect one work with another.
Guillaume Leblon was born in 1971 in Lille (France). He graduated from
the École des Beaux-arts in Lyon. He was in residence at the
International Studio & Curatorial Program in New York (2008), at the
Rijksakademie in Amsterdam (1999-2000) and was awarded the Altadis
Price in 2005. He lives and works in Paris. His recent projects
include solo exhibitions at Mudam (Luxembourg), at the Centro Galego
de Arte Contemporánea (Santiago de Compostela, Spain), at STUK
Kunstcentrum (Leuven, Belgium), at the centre d'art contemporain
Domaine de Kerguéhennec (Bignan, France) and at the Kunstverein für
die Rheinlande und Westfalen (Düsseldorf, Germany).
http://guillaumeleblon.com/
http://www.castillocorrales.fr/galerie/index.php/Currently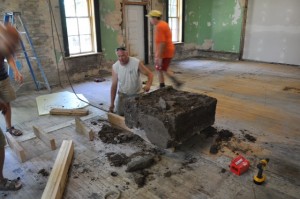 ++++++++++++++++++++++++++++++++++++++++++++++++++++++++++++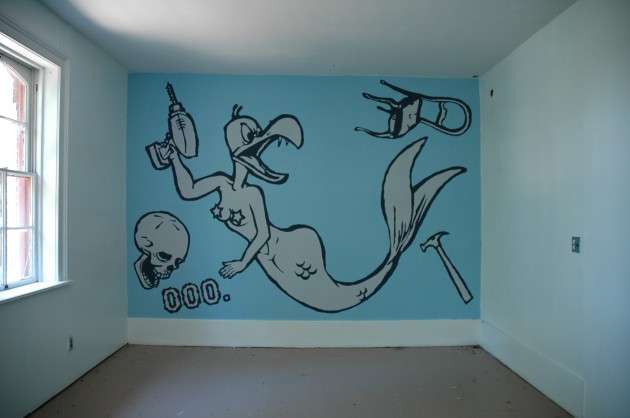 Fields of Dream | Simon Grennan (UK) + Christopher Sperandio (Houston)
Aging, enfants terrible collaborators find the middle of life: tired,
searching for renewed vigor in the bucolic farmland of Wisconsin.
Look, up at the clouds and imagine: translating the funny and strange
shapes into new drawings for a poor farm.
Christopher Sperandio's collaborative artwork with British artist
Simon Grennan explores the numerous margins between mass and museum
cultures. Sperandio's work takes a variety of forms including comics
and books, games, temporary sculptures, painted installations, and
digital media. These artworks almost always, although not this time,
involve public participation, in the form of open calls, canvassing,
and workshops.
http://www.kartoonkings.com/
++++++++++++++++++++++++++++++++++++++++++++++++++++++++++++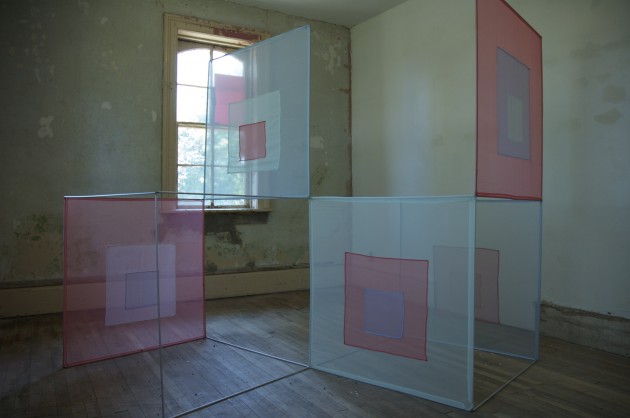 The Catalyst | Yvette Brackman (Copenhagen)
The Catalyst is a performance that engages the audience in reenacting
a story about negotiations between an indigenous community and a
global production company in Russia. There are six roles and a chorus
that are amalgamated into a stream of numbered cues revealing at times
antagonistic points of view. The audience is set in an installation
and given numbered cue cards and together creates The Catalyst
performance.
Yvette Brackman is an American artist and writer who lives in Denmark.
Her work often draws upon the history of the Soviet Union from which
her family immigrated in 1959. Brackman's art evokes Russian
Constructivism, a revolutionary art movement that originated around
1919 and saw art as a practice directed towards social purposes.
Brackman's artistic output includes creating platforms for
distribution and exchange with a performative character. In these
works she engages audiences and communities in exploring issues of
common responsibility and social relations. Her artwork draws upon
various mediums of expression in which she uses a combination of
crafted elements and time-based media to create narratives that unfold
in space. From 2000-2007 Brackman held a professorship at The Royal
Danish Academy of Fine Arts in Copenhagen where she also chaired the
Department of Walls and Space. Brackman received her Bachelor in Fine
Arts from The Art Institute of Chicago and two Masters Degrees in Fine
Art and Art History with a minor in Women's Studies from the
University of Illinois at Chicago.
http://www.yvettebrackman.info/Details.html
++++++++++++++++++++++++++++++++++++++++++++++++++++++++++++
Bunker/Repository FALL 2011 | Keil Borrman (New York)
The installation will eventually hold preserved foods made in collaboration
with farmers local to the Poor Farm, Upstate New York and Long Island, a
seed library and facilities for fermenting Soy Beans into Miso and cabbage into Kimchi.
In preparing the 2nd phase of construction 5 gallons of Kimchi that
have been fermenting 10 feet underground for the past year will be
exhumed and prepared with pork from Upstate New York for a feast
honoring those helping with the execution of phase II
Keil Borrman lives and works out of Bushwick Brooklyn although these
days he is spending more and more time in Sullivan County New York. He
is currently developing long-term projects with several organizations
sited outside of New York City. These projects seek to force the art
world to confront it's short comings in the development of critical
practices while making use of and supporting the networks of mutual
interest that have developed between small farmers working in
opposition to the larger agricultural industry in the United States.
http://keilborrman.blogspot.com/
++++++++++++++++++++++++++++++++++++++++++++++++++++++++++++
Summer Blockbuster | Tyson Reeder + Scott Reeder (Chicago)
A scripted narrative video project completed in three days, ending
with an outdoor premiere screening on August 7th. Participants will
assume different roles in this short-hand movie making blitz,
including writing, location scouting, costume/prop making, acting,
shooting, making soundtracks and editing.
Tyson Reeder and Scott Reeder are professors of Painting and Drawing
at SAIC. Both are represented by Daniel Reich gallery in NYC and have
been involved in numerous curatorial projects, including The Early
Show at White Columns, NY, Dark Fair at Kolnischer Kunstverein,
Cologne, and Club Nutz at Frieze, London, and the Museum of
Contemporary Art, Chicago.
http://clubnutz.biz/
++++++++++++++++++++++++++++++++++++++++++++++++++++++++++++
Aaron Van Dyke + Summer School (Minneapolis, St Paul)
Summer school is a gathering of artists (students, recent graduates
and teachers) gathering together for a dialog on art making. This
happens both formally and informally, in small and large groups.
Summer school aims to be somewhat of an antidote to the shortcomings
of formal education, stressing openness, experimental forms of
educations and educational and artistic agency. Van Dyke will also be
curating the GPFE III video program.
Aaron Van Dyke is just another desperate artist living, teaching and
working in Minneapolis.
http://www.aaronvandyke.net/index_summer_school.html
++++++++++++++++++++++++++++++++++++++++++++++++++++++++++++
Very Low Frequency Painting | Simon Ingram (Auckland)
Simon Ingram works with painting, machines and radio. Recent work has
centered on painting using custom built machines programmed with
techniques of self-making derived from artificial life. In Very Low
Frequency Painting the attention is turned outward and upward with the
help of a radio telescope painting machine that listens in to very low
frequency (VLF) radio signal that propagates in the upper atmosphere.
Simon Ingram lives in Auckland, New Zealand. Over the last four years
he has exhibited at CCNOA and The Kunstverein Medienturm (Europe), PS1/
MoMA, Pulse Contemporary Art Fair, The Suburban (USA); The Adam Art
Gallery, The Auckland Art Gallery, Dunedin Public Art Gallery and Gow
Langsford Gallery (NZ). He is represented by Gow Langsford Gallery and
teaches at The University of Auckland. Simon Ingram wishes to acknowledge
the support of Elam School of Fine Arts at the University of Auckland, New Zealand.
http://www.minusspace.com/2011/04/simon-ingram-radio-paintings-gow-langsford
-gallery-auckland-new-zealand/
++++++++++++++++++++++++++++++++++++++++++++++++++++++++++++
The Document | Diego Leclery (Chicago)
Leclery will present The Document, an open play with no set actors or
fixed roles.  The Document tells the story of journey as is becomes a
journey and stops being just an activity.  The play will meander the
grounds of the Poor Farm and can be performed by any two individuals
as they wish, at any time of day or night.
Diego Leclery was born near Paris, France, in 1978 and has lived much
of his life in Brazil and the US.  He currently resides in Chicago
where he teaches painting and drawing at the School of the Art
Institute of Chicago.  Leclery is a founding member and co-director of
Julius Caesar, an artist-run space in East Garfield Park Chicago.  He
is the on-again off-again editor of bdbbdb, a pdf magazine of art,
criticism, theory, and literature.  Leclery holds an MFA from the
School of the Art Institute of Chicago and has exhibited in many of
Chicago's alternative spaces, including The Suburban, Monument2,
Zrobili, Alogon, New York City - Gold Coast, and many more.
http://diegoleclery.com/bio.html
++++++++++++++++++++++++++++++++++++++++++++++++++++++++++++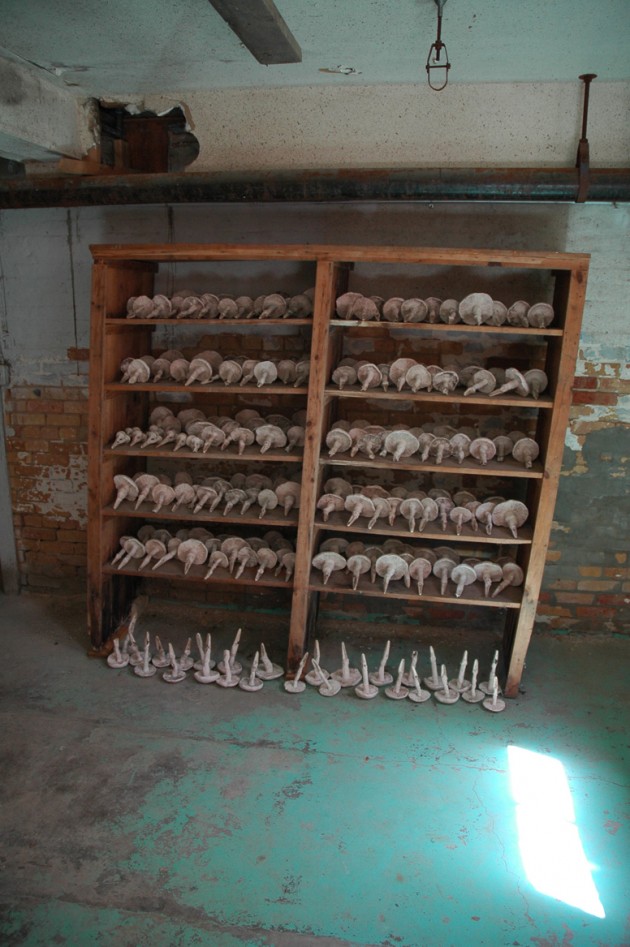 Lily Cox-Richard (Ann Arbor)
Lily Cox-Richard will create new work for the Poor Farm's Cemetery,
exploring sculpture's capacity for commemoration, with attention to
what lies beneath it.
Lily is a sculptor currently based in Ann Arbor, MI, where she is a
fellow in the University of Michigan's Society of Fellows. She has
exhibited her work at Kompact Living Space, Berlin; AREA Gallery,
Caguas, Puerto Rico; Civilian Art Projects, Washington DC, and
Lawndale Art Center, Houston, TX. Before coming to Michigan, Lily was
a Core Fellow at the Museum of Fine Arts Houston where she was awarded
the Meredith Long Prize.
http://lilycoxrichard.com/
++++++++++++++++++++++++++++++++++++++++++++++++++++++++++++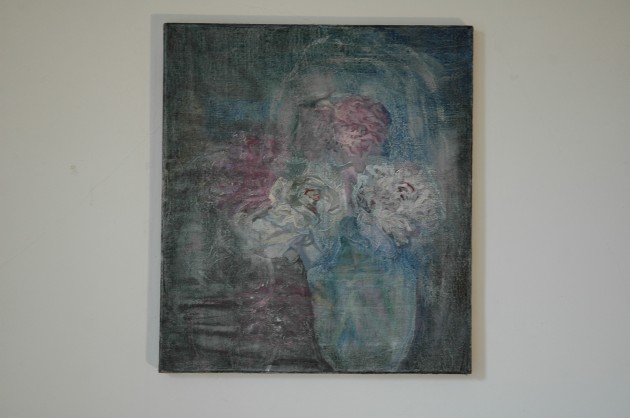 Paintings | Aliza Nisenbaum (New York), Deirdre O'Dwyer (New York), + Kelly
Williams (Nashville)
Aliza Nisenbaum, Deirdre O'Dwyer, and Kelly Williams met in Chicago,
in the early aughts. In a recent catalogue essay on Aliza's paintings,
Deirdre writes: "I remember an evening the summer before I left
Chicago, when we were sitting on the front stoop of our place, talking
to our friend Kiki, playing a game about what type of person our
paintings would be (clearly not ourselves). Back then we were fresh
out of school and still thought we could reduce ourselves to painting
a certain statement, in iteration. We thought of ourselves as
recognizable. I still think of paintings as characters, objects to
converse with in perpetuity. I grow chattier." For Poor Farm 2011, the
three resume their conversation about misrecognition and
identification and painting and character, with three new paintings,
one a piece each.
Aliza Nisenbaum was born in Mexico City in 1977 and currently lives in
Brooklyn, NY. Completing studies at the Universidad Iberoamericana in
Mexico City, MFA, and BFA degrees from the Art Institute of Chicago.
She currently teaches at Purchase College in NY and has taught at the
University of Chicago, and Northwestern Universities. Her work has
been shown internationally, with a recent solo show in 2011 at Julius
Caesar gallery in Chicago. Deirdre O'Dwyer was born in Milford,
Delaware in 1978, and presently lives and works in New York City. Her
work has been exhibited internationally, with solo shows at Five Years
in London and Julius Caesar in Chicago. She was the Starr Fellow at
the Royal Academy of Arts in London in 2007–2008, received her MFA
from the School of the Art Institute of Chicago in 2006, and her BA
from Harvard University in 2000, where she studied art history. Kelly
Williams met Aliza and Deirdre while earning an MFA in painting and
drawing from the School of the Art Institute of Chicago. She also
holds a BA from Vassar College, and attended Yale's Norfolk Summer
School for Art and Music in 1998. Kelly Williams currently lives and
works in her hometown of Nashville, Tennessee.
http://juliuscaesarchicago.com/aliza.html
http://juliuscaesarchicago.com/deirdre.html
http://www.artsnashville.org/registry/?scan=az&main=artist&id=90
++++++++++++++++++++++++++++++++++++++++++++++++++++++++++++
The Norther Forrest Brotherhood ( Wink and Nod ) | Bruce Tapola (St. Paul) + David Dunlap (Iowa City)
The Shack of The Northern Forrest Brotherhood first arose as The Moon
Hotel, Havana, Cuba, October / November, 1958.  In 1980, seemingly
overnight, it arose a second time, rising up from the bits and pieces
of a sculpture yard.  It was next The Tower Too Tall, Five Stories Too
Tall, Made Small, Walnut Farms ( 2002 ).  It resurrected at White
Columns, NYC, 2007, then reresurrected at The Cue Foundation, NYC
(thanks to the Reeder Brothers) in 2010.  Now, here, at the Poor Farm
with a Wink and a Nod, with a Splinter from the True Shack, it washes
ashore, first as Jetsam, now as Flotsam.
Bruce Tapola is a Waylon Jennings enthusiast living in St. Paul,
Minnesota. David Dunlap is an artist and is a professor at the
University of Iowa where he lives and works.
http://www.rubennusz.com/Art/text/Entries/2010/3/16_Exchange__A_conversation
_with_Bruce_Tapola.html
http://www.cueartfoundation.org/david-dunlap.html
++++++++++++++++++++++++++++++++++++++++++++++++++++++++++++
Lazy River, Show Me Your Rafts | Richard Galling (Milwaukee) + John Riepenhoff (Milwaukee)
The clear water, gentle rapids, and breathtaking scenery of the Little
Wolf River make DIY tubing a fun and relaxing recreational activity
for all artists. Make or alter your own raft or floating device and
join us for a group float down the Little Wolf River. A committee will
give out awards for: largest scale, smallest carbon footprint, most
transformative use of materials, and accommodation of most passengers.
Rafts will be launched on Saturday at 2pm. Stop for a swim at one of
the smooth sandy spots or stay in your tube and relax. Allow the river
to take you on a leisurely trip back to the Poor Farm. Participating
artists can choose to build their rafts beforehand or bring supplies
to make their floating devices on site.
Smooth and Sandy Sessions
Join us for evening hours of music listening including sets by
acclaimed DJs:
Weather Channel
Richard Richard
Frank Frank
and others
John Riepenhoff is an artist, curator, gallery director, art fair co-
organizer and inventor of artistic platforms for the expression of
others. Riepenhoff opened the Green Gallery while still an
undergraduate at the University of Wisconsin-Milwaukee. His first solo
show, Group Show, took place in 2010 at the Jackpot Gallery in
Milwaukee, and his work and projects have been presented at the Tate
Modern and Frieze Art Fair (London); Gavin Brown's Enterprise and the
Swiss Institute (New York); Angstrom Gallery and Ooga Booga (Los
Angeles); Tokyo 101 Art Fair (Tokyo); Kölnischer Kunstverein
(Cologne); Karma International (Zurich); Fredric Snitzer Gallery
(Miami); The Suburban (Oak Park, Illinois); Sullivan Galleries, School
of the Art Institute of Chicago and Western Exhibitions (Chicago);
Madison Museum of Contemporary Art; Milwaukee Art Museum,  Inova,
Lynden Sculpture Garden (Milwaukee). Most recently, he opened a meta-
gallery at Pepin Moore in Los Angeles, where he is regularly
programming a John Riepenhoff Experience. Richard Galling is a
painter, music producer, and DJ.  Galling received his BFA at Art
Center College of Design and MFA at Yale University.  He has recently
exhibited at D-Block, Los Angeles; The John Riepenhoff Experience in
Pepin Moore Gallery, Los Angles; Green Gallery West, Milwaukee;
Ebersmoore, Chicago; and Bentley Projects, Phoenix.
http://www.thegreengallery.biz/
++++++++++++++++++++++++++++++++++++++++++++++++++++++++++++
Alexander Herzog (Chicago)
Created at the Poor Farm this summer in between work on tearing down walls and raising steel beams, these paintings begin with spontaneous hand-made gestures.  Further revealed by subtractive processes, the gesture becomes more of an image, frozen into a precisely-rendered monochromatic field held within four edges.
Alexander Herzog's painting practice centers on aspects of Spatialism, challenging perspective and visually dislocating clear understanding of line.  With somewhat the same intention as traditional handling of Chiaroscuro within a "window space," his manipulation of light and dark values depicts illusionary space by a different method.  His process of conceptural tension creates play between a series of images without setting a cohesive narrative.
pictureherzog@yahoo.com
++++++++++++++++++++++++++++++++++++++++++++++++++++++++++++
Rose DiSalvo (Chicago)
Raising Barn
This work is a group of paintings of textures, objects and spaces at the Poor Farm that have or will soon undergo transformation in the restoration process. It is a portrait of a place in stages of transition.
Rose DiSalvo's work images the construction of identity of places from travels and memory. Individual vignettes form a part of a whole piece, linking together a contour of space and time. The paintings combine the genres of history and portraiture within abstraction and representation.
www.rosedisalvo.com
++++++++++++++++++++++++++++++++++++++++++++++++++++++++++++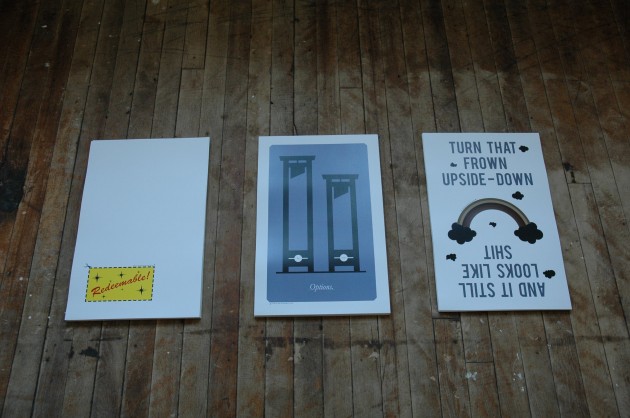 Alex Jovanovich (New York) + Nicole Perez (Chicago)
Lately we haven't been feeling very optimistic, so our collaborative works for the Poor Farm this season reflect this. No matter how bad things get, however, we both very fervently believe that creating art has the power to make the sundry burdens of life...well, less burdensome.
So here we offer some "inspirational" posters, based on our current state of disenchantment. They're pretty funny. We hope you like them.
Nicole Pérez was born in New Orleans in 1969, spent her teen years in ugly west Texas, and has called Chicago her home for the past 22 years. Her first solo show in Chicago was at The Bike Room's inaugural exhibition this July 2011. Nicole received her MFA from the School of the Art Institute of Chicago in 2006, and her BFA from the School of the Art Institute of Chicago in 2004.
www.nancylurosenheim.com/the-bike-room/nicole-perez/
Alex Jovanovich is an artist who lives in New York.
++++++++++++++++++++++++++++++++++++++++++++++++++++++++++++
MIKE GRABNER (Appleton) and TOM KOLOSSO (Manawa)
August 13-21, 2011
Work by two local wildlife artists